Our brand-new and easy-to-navigate Online Learning Portal provides PreK-6 grade teachers with everything they need to successfully integrate Sanford Harmony's social-emotional learning program into the classroom, including:
One-click navigation for all classroom activities, SEL stories, role-playing games and sing-along songs
Customizable dashboards by grade-level
Randomized everyday practices to start each day
On-demand training videos
English-to-Spanish language toggle for entire curriculum
Single sign-on provides instant access to SEL professional development modules through Sanford Inspire
Harmony Dashboard
The Harmony Dashboard is your home base where you log-in each morning, and gain access to your weekly lessons, everyday practices, on-demand training videos and much more.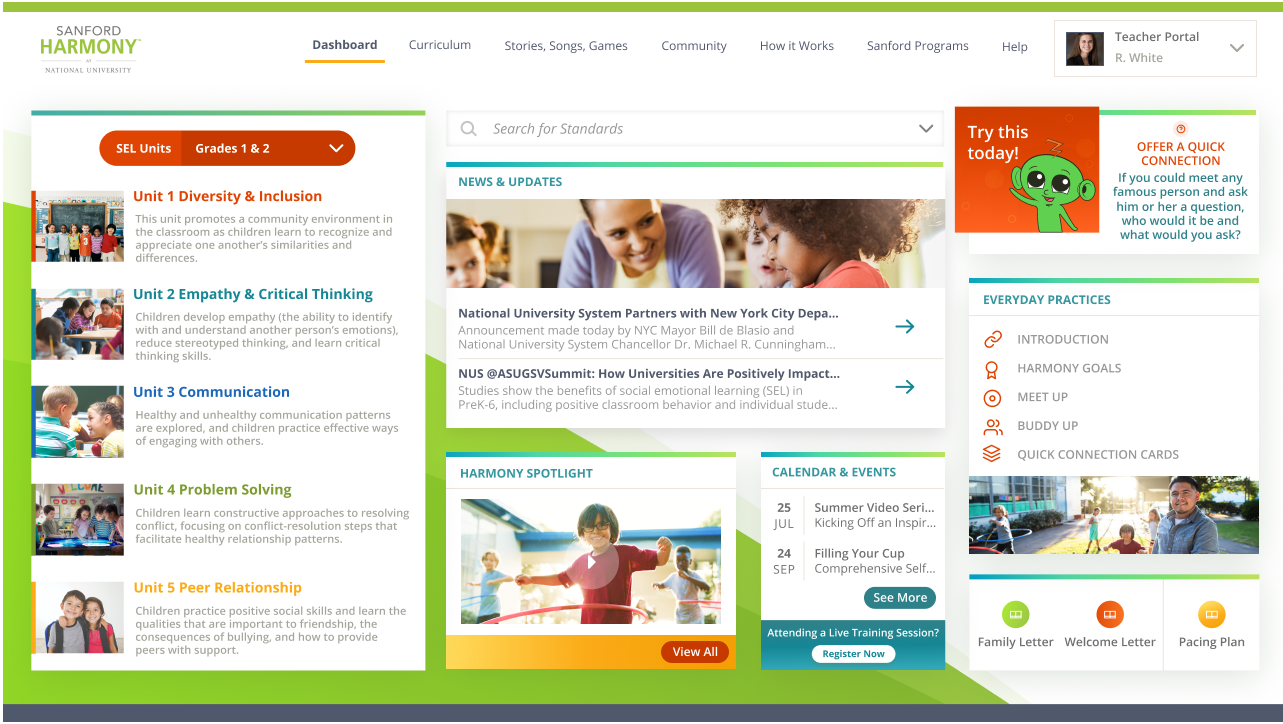 Easily Incorporate Harmony in Your Classroom
Our pacing plan recommendations provide you with the flexibility to match your specific classroom and calendar requirements to our sequential units and lesson structure.
Stories, Songs, and Games
Harmony storybooks introduce Z and the Treehouse Friends to Pre-K-2nd graders as they learn about emotions, explore relationships, and solve problems.
Harmony sing-along songs support the Pre-K-2nd grade curriculum by introducing our everyday practices while engaging children in movement.
Harmony games reinforce key SEL concepts introduced in the 3rd-6th grade lessons, engaging students in discussions, role playing and relationship-building activities.
Client Forum & Support
We provide quick response on your technical support questions and offer customer forums so you can connect with other Harmony users to post questions, share best practices, and discuss ideas for implementing SEL in the classroom.